Program created by Jonathan Miller / Music direction by Benjamin Rivera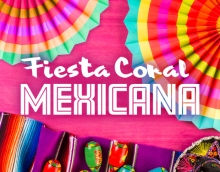 We celebrate the colorful and dynamic music of Mexico in this vibrant new program. Baroque masterworks, familiar melodies, and stunning contemporary pieces by Mexican composers will shine a light on this wide and varied musical world. We'll include new works commissioned from our ¡Cantaré! Chicago composers-in-residence, including beautiful songs by Rodrigo Cadet, Novelli Jurado, and Julio Morales. A special performance takes place at the spectacular National Museum of Mexican Art in Pilsen.
Students from UIC College Prep High School choir are guest performers at the Chicago and Oak Park performances.
Song List and Program Notes
¡Festeje la vivaz y colorida música de México en este concierto dinámico! Interpretaremos obras maestras barrocas provenientes de la catedral de Puebla, música folclórica tradicional, obras contemporáneas resplandecientes y piezas populares favoritas, tales como "La Bikina" y "Bésame Mucho." El director artístico, Jonathan Miller, realizó investigaciones en México como parte de un intercambio cultural, y entre sus hallazgos figuran obras de los compositores contemporáneos, Jorge Cózatl y Jorge Córdoba, así como obras que se extienden hasta la antigüedad del siglo XVII. Además, se escucharán tres piezas compuestas por Rodrigo Cadet, Novelli Jurado y Julio Morales. Estas obras fueron encargadas por Chicago a cappella mediante "¡Cantaré! Chicago," su programa de compositor residente. Este concierto deslumbrante, preparado por el director musical invitado, Benjamin Rivera, saldrá a relucir un mundo musical espectacularmente variado y brillante.
Jonathan Miller
Program Creation