Land Acknowledgement
Statement
Chicago a cappella gratefully acknowledges the Native Peoples on whose ancestral homelands we gather, as well as the diverse and vibrant Native communities—more than 100,000 tribal members—who make Illinois their home today. The communities we serve through our concerts and community engagement programs occupy the traditional homelands of the people of the Council of Three Fires—the Ojibwe, Potawatomi, and Odawa—as well as the Menominee, Miami and Ho-Chunk nations. We honor these and numerous Native tribes who first made the shores of Lake Michigan a center of arts and commerce. 
Update on Diversity, Equity, Inclusion, and Access Work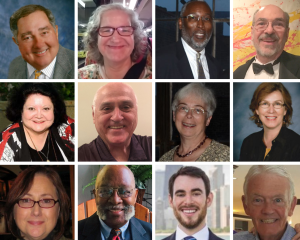 –Chicago a cappella's Board of Directors
In June of 2020, as we welcomed John William Trotter as Artistic Director (succeeding Founding Artistic Director Jonathan Miller), Chicago a cappella was confronted with the challenges of the COVID-19 pandemic and the national reawakening to the structural racism that is inherent in our country's history and is still present today.
While we met the first challenge through the creativity and generosity of our devoted staff, our talented singers, and our loyal audience, the second challenge–fulfilling our commitment to Diversity, Equity, Inclusion and Access (DEIA)—will not be met in the course of one season.  Nor should it be. Our commitment to DEIA is central to our role and responsibility as an artistic enterprise that was founded in Chicago and, over 27 seasons, has earned recognition locally and nationally for excellence and innovation in advancing the art and appreciation of ensemble singing. Our work in this arena is long-term and is embedded in all aspects of the enterprise:  artistry, administration, and community engagement. We want to share our plans and progress with our supporters and friends.
Our DEIA commitment is grounded in our longstanding commitment to community engagement in the schools, including:
Our Youth Choral Festival, which brings choral ensembles from Chicago-area high schools—including those in underserved communities—together with Chicago a cappella's professional singers and directors for an inspiring day of learning as well as interaction with students from other schools, both city and suburban.
 ¡Cantaré! Chicago, which brings composers from Mexico into Chicago-area classrooms, fostering a deeper understanding of Mexican cultural traditions and enhancing students' musical skills.
During the 2020-21 season we launched the HerVoice competition, conceived by John William Trotter to promote the work of emerging women composers and provide hands-on mentoring to further their skills in choral composition. Four winners were chosen from among 82 submissions. These four works will be performed in the coming season by Chicago a cappella or the Kansas City Chorale, our partner in this project. 
In addition to these educational and artistic initiatives, our DEIA work this past year included:
Completing a comprehensive assessment of our concert venues, addressing such issues as closed captioning and accessibility requests.
Moving reserve funds to a Black-owned financial institution.
Recognizing that unpaid internships, while offering valuable experience, are inherently unequal in opportunity, we made a commitment to pay a fair hourly wage to our office interns.
Looking ahead: In the coming months, board-staff teams will conduct equity audits of our current state, identifying corrective action where needed and seeking new opportunities to strengthen our DEIA commitment. This ongoing work is embedded in our strategic planning process as well as day-to-day management. The board will schedule regular reviews of our DEIA work and will share the results with our subscribers and supporters. We invite you to contact us with your questions, observations and suggestions.