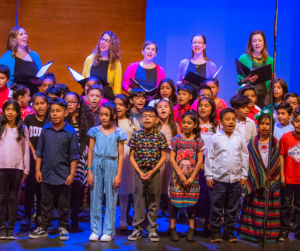 Engaging schools in the discovery, celebration

,

and creation of music from Mexico

 
¡Cantaré! Chicago is a unique program designed to bring the talents of composers from Mexico directly into Chicago classrooms. Since its launch in 2016, this cross-cultural program has helped create a deeper understanding of Mexican cultural traditions and enhanced the musical skills of Chicago-area students. 
¡Cantaré! Chicago advances our efforts to advocate and nurture music from diverse ethnic, religious, and cultural traditions, while focusing particularly on a community deeply important to our own city. 
In 2022-23, we teamed up with Mexican composer Rodrigo Cadet, who joined classrooms in Chicago both virtually from Mexico and in person, to teach Mexican music and culture. The students learned songs Rodrigo composed just for them, and they performed the works at their school concerts in early 2023. 
If your school is interested in participating in ¡Cantaré!, contact Education Outreach Coordinator Matt McNabb. 
¡Cantaré! Chicago is a partner program of VocalEssence ¡Cantaré! based in Minneapolis, MN. 
I think the ¡Cantaré! program is very important, especially when I consider my students and the demographics of my students. I think representation is important. So, for my students to see someone that looks like them doing music, performing music, writing music, I'm hoping that it will open up their minds and open up their sense of what is possible.
– Jaqueline Larry, UIC College Prep