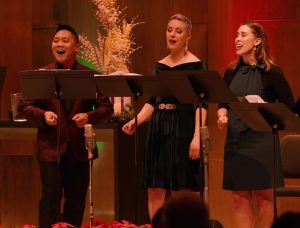 Stunningly beautiful and fun music, entertainingly and exquisitely sung without instruments, touching people's hearts and exciting their minds.
Into Jazz? Sacred Music? Pop? Art Song? Well, we've got you covered, and then some! 
Our concert series, performed all across the Chicagoland area each year, is where our singers combine their talents, eclectic musical tastes, and wide-open playful hearts in concert programs that bring a mix of music from serious to wacky, ancient to modern, and classical to funk. The result is a concert experience that is accessible and fun, never dull or repetitive. Listeners are treated to their favorites while discovering new ones.  
Maybe you come to our Holiday show to hear Jingle Bells or Deck the Halls. When you get home, you'll be downloading a track from our Palestrina recording. Let us share something you've never seen or heard before.  
Chicago a cappella is amazing — such high standards, not only in the music they choose, but in the arrangements they do and the way they present the music. They're amazing.