Program created and music direction by John William Trotter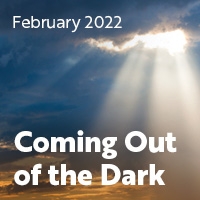 As mother nature gives us an extra hour of sunlight in February, we'll share the songs that brought us back to the light when the darkness of our stages was weighing us down. We'll share a collection of songs sourced directly from our singers' pandemic playlists, along with personal stories of how they provided inspiration, consolation, escape, and joy. And, we'll premiere two new works from the winners of our HerVoice Women Composers Competition, a program launched in 2020 that gave us hope for a bright future.
Tickets for the February 11 performance
Tickets for the February 11 performance at Allen Recital Hall must be purchased through the Holtschneider Performance Center Box Office. If you need ticketing assistance, please contact the Holtschneider Performance Center Box Office by phone at 773.325.5200, open Tuesday – Saturday, 10AM – 3PM or by email at musicboxoffice@depaul.edu.
Health & Safety Information
We are committed to the health and safety of our audiences, singers, and staff. In the coming months, we will continue to monitor the public health situation and be prepared to follow all local, state and federal guidelines. COVID-19 protocols and attendance requirements will be communicated to you prior to your arrival at the event.
Details on current plans can be found on our Safety page here.
Guests With Disabilities Are Welcome!​
Chicago a cappella is committed to welcoming everyone to our event. To request access services or to learn more, please email Sara Badger or call (773) 281-7820×1 with as much advance notice as possible.