Program created and arranged by Patrick Sinozich / Music direction by Paul Langford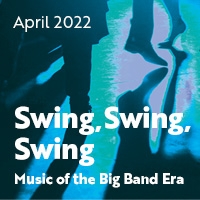 For this year's season wrap party, travel back to the age of zoot suits and the jitterbug, as our singers take on the irresistibly danceable rhythms and sentimental ballads of the Big Band era. Get your feel-good fix from songs by Duke Ellington, Count Basie, Glenn Miller, Benny Goodman, and more, in exciting new arrangements made just for us.
Health & Safety Information
We are committed to the health and safety of our audiences, singers, and staff. In the coming months, we will continue to monitor the public health situation and be prepared to follow all local, state and federal guidelines. COVID-19 protocols and attendance requirements will be communicated to you prior to your arrival at the event.
Details on current plans can be found on our Safety page here.
Guests With Disabilities Are Welcome!​
Chicago a cappella is committed to welcoming everyone to our event. To request access services or to learn more, please email Sara Badger or call (773) 281-7820×1 with as much advance notice as possible.