Program created by Jonathan Miller / Music Direction by Jorge Córdoba Valencia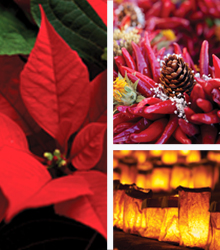 Celebrate Mexico's rich choral heritage at this glorious concert featuring Renaissance and Baroque masterpieces, traditional Mexican Christmas songs, sweet and tuneful lullabies, and new choral compositions. We'll present the world premiere of a commission by acclaimed Mexican composer and conductor Jorge Córdoba Valencia, who will also serve as guest music director.  Join us for this joyous one-of-a-kind seasonal celebration! ¡Feliz Navidad!
We celebrate El Dia de Reyes (Epiphany) with Chicago's vibrant Little Village neighborhood with a special community performance of "Navidad en México" on January 5.  
Saturday
December 1, 2012
8:00 PM
Sunday
December 2, 2012
4:00 PM
Friday
December 7, 2012
8:00 PM
Fourth Presbyterian Church
Michigan Avenue at Delaware Pl.
Chicago, IL 60611
Sunday
December 9, 2012
4:00 PM
Saturday
January 5, 2013
8:00 PM
Free Community Concert
St. Agnes of Bohemia Church
2651 S. Central Park Ave.
Chicago, IL 60623
Elizabeth Grizzell
Mezzo-soprano
Susan Schober
Mezzo-soprano
Jorge Córdoba Valencia
Music Director