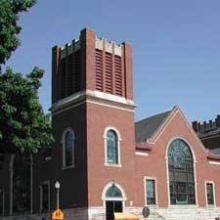 Community UMC
20 Center St.
Naperville, IL, 60540
Driving Directions
Take the East-West Tollway (I-88) to Naperville Road. At bottom of exit, turn right (south) on Naperville Road. As road forks, stay to the right, then turn right again on Ogden Avenue. Turn left on Washington Street to Benton. Turn left on Benton, one block to Center Street. Turn left onto Center; the church is on your right.
Parking
Several free parking options are available nearby, including a small lot at Community UMC (enter from Benton), and additional lots at St. Peter & Paul Catholic Church (northwest corner of Ellsworth and Benton) and Guidepost Montessori (southwest corner of Franklin and Center, directly across the street from Community UMC).
Accessibility
The church is completely wheelchair accessible. Use entrance doors on Benton Avenue and use elevator to second floor.