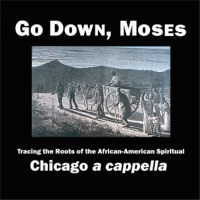 Go Down, Moses: Tracing the Roots of the African-American Spiritual
Tracing the history of the African-American spiritual, this disc includes early call-and-response and "Dr.Watt's" style hymns, classic settings by the Fisk Jubilee Singers, and virtuosic contemporary arrangements by Moses Hogan, Jester Hairston, Peter Saltzman, and others.
Performers
Soprano
Dodie Morris
Kathleen O'Brien Dietz
Mezzo-soprano
Deborah Guscott
Amy Pickering
Tenor
Cary Lovett
Trevor Mitchell
Bass
Matt Greenberg
Aaron Johnson
Jonathan Miller
This collection of 16 African-American spirituals is wonderful, boasting technical prowess tempered with the expressive emotionalism inherent in the genre. … an informative and entertaining overview of the spiritual style.
Additional Details
Chicago a cappella Records CAC2004
Running time: 59:33
Includes 16-page booklet with historical notes