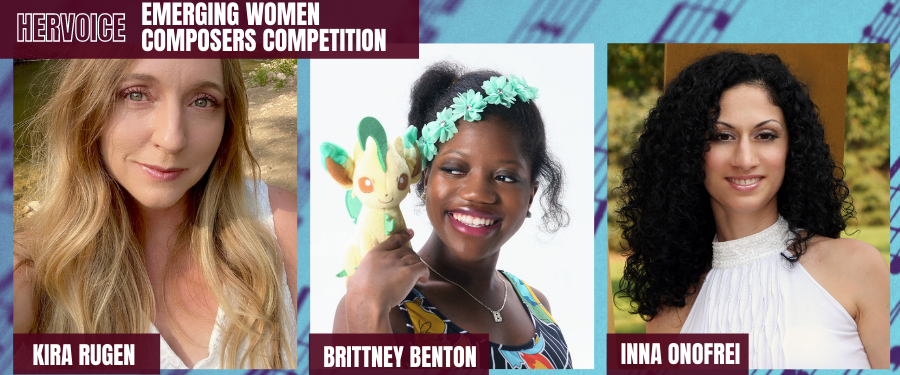 CHICAGO — Chicago a cappella is pleased to announce the winners of the ensemble's 2022 "HerVoice" competition and mentorship program for emerging women composers.  In its second year, the project received 59 submissions from composers on four continents.
Three winners will each receive personal mentoring from one of the program's acclaimed composer panelists, Stacy Garrop, Zanaida Robles, and Chen Yi, as well as a $500 cash award. Each piece will be workshopped and performed by either Chicago a cappella under the direction of artistic director John William Trotter, who created the program, or the Vancouver Youth Choir under the direction of artistic director Carrie Tennant, which joined as a new choir partner this year.
In addition, in an ongoing partnership, the Kansas City Chorale, whose spring 2022 concerts were cancelled due to COVID, will work with two winners from the first competition during the 2022-23 season.
The winners are:
Brittney Benton
, Las Vegas, NV
Benton's work Invitation to Love, set to a text by Paul Laurence Dunbar, will be workshopped and performed by Chicago a cappella, and she will work with mentor composer Zanaida Robles. A 2022 graduate of the University of Nevada, Las Vegas, where she earned a bachelor of music degree, Benton was awarded a Composer's Showcase Scholarship for undergraduate composers. She has explored writing for a variety of instruments and musical styles, and last year she was the winner of the Emerging Composer Competition of the Bellevue (WA) Chamber Chorus.
Inna Onofrei
, Chesterland, OH
Onofrei's piece Lullaby, based on a poem by Alfred Lord Tennyson, will be workshopped and performed by Chicago a cappella, and she will work with mentor composer Stacy Garrop. Born in Azerbaijan and raised in Russia, Onofrei studied music from an early age, winning several awards in a young composers competition before earning her bachelor degree in music theory and composition at the Stavropol State College of Arts. Upon moving to the U.S. in 2002, she turned to piano performance, earning her master of music (MM) degree in piano from Cleveland State University. In 2016 she decided to pursue her true passion of composing, and two years later she earned a second MM degree in composition from Cleveland State University. Onofrei's catalogue as a composer includes music for piano, voice, chamber ensembles, and symphonic works, as well as electronic and electro-acoustic works.
Kira Rugen
, Scottsdale, AZ
Rugen's composition Windows to Paradise (In Paradisum) will be workshopped and performed by the Vancouver Youth Choir, and she will work with mentor composer Chen Yi. Now in her twenty-third year as a music educator, Rugen received a bachelor of arts degree at Weber State University, a master in music education with an emphasis in vocal performance at Arizona State University, and a doctorate of musical arts in choral conducting at Arizona State University. She currently serves as choral and musical theatre faculty at Scottsdale Community College and previously held positions at Arizona Christian University, Grand Canyon University, and Arizona State University. Dr. Rugen is the founder and Artistic Director for Solis – Choir of the Sun, a professional choir, and she is in her eighteenth season as a soprano with the Phoenix Chorale.
Three additional entrants were named as honorable mentions:
Joan Johnson Drewes
 of New York, NY
For her piece Lift My Soul
Stacey Philipps

 
of Portland, OR
For her piece Morning
Faith Zimmer

 of Springfield, MO
For her piece On Another's Sorrow
HerVoice was conceived by Chicago a cappella artistic director John William Trotter to promote the work of promising women composers and provide hands-on mentoring to further their skills in choral composition. In addition to the mentoring, workshop, and performance opportunities for the four winners, all composers who submitted works will be able to participate in virtual gatherings with the composer mentor panel to learn about the business side of composing and to discuss issues pertaining to navigating a career as a female composer.
Performing with an ensemble of 10 singers and no conductor, Chicago a cappella has been hailed as "the area's best unaccompanied group" (Chicago Magazine) and "the city's liveliest, most versatile vocal ensemble" (Chicago Tribune). Founded in 1993, the group spans a repertoire from Gregorian chant to the Beatles and beyond. With more than 500 performances to its credit, Chicago a cappella produces an annual concert series in the Chicago area, and it has appeared in 13 American states and in Mexico. The ensemble is heard frequently on radio nationally and has a catalog of nine CD recordings on the Cedille, Centaur, and Gothic labels.