THE PROGRAM 
Chicago a cappella seeks submissions for HerVoice, a competition and mentorship program for women composers.  A partnership with the Vancouver Youth Choir and the Santa Fe Desert Chorale, this opportunity is open to composers of all ages who self-identify as female, from anywhere in the world. It is intended to promote the work of promising composers and provide hands-on training to further their skills in choral composition. We are seeking composers who are eager to improve their skill at choral composition in particular. Women composers whose career is in its early stages and women composers of color are particularly encouraged to apply. 
Up to six winners will be selected to receive personal mentorship and advice on the submitted piece via virtual one-on-ones with acclaimed composers and artistic directors from the selection committee. Composer Stacy Garrop will chair the selection committee, which will also include composer Zanaida Robles, Chicago a cappella Artistic Director John William Trotter, Vancouver Youth Choir Artistic Director Carrie Tennant, and Santa Fe Desert Chorale Artistic Director Joshua Haberman. In addition, the winners will be invited to attend a workshop rehearsal of their piece with one of the choirs (virtually, if travel is not possible), with the opportunity to receive feedback and make changes to the score. The piece will be performed by one of the choirs within one year of the workshop rehearsal, with a performance recording available to the composer for non-commercial use. The winners will each receive a $500 stipend for work with mentors and ensemble. 
In addition, all composers who submit will be invited to participate in a virtual meeting with Stacy Garrop regarding the business side of composing, a conversation with conductors, and an informal group conversation about issues pertaining to navigating a career as a female composer. 
REQUIREMENTS 
Submit a piece for a cappella mixed voice choral ensemble with no more than 10 voice parts (SSSAATTBBB). The piece should be between 3-5 minutes in length. Texts used must be public domain or have written permission from copyright holder. Submissions must be unpublished, unawarded, and not previously broadcast.  Previously performed works are acceptable. Composers may submit a maximum of two pieces.  Composers who submitted works to HerVoice previously and did not win are invited to apply again,  but not with the same piece previously submitted.   
TIMELINE 
Submission deadline:  April 1, 2023

 

Short interviews (phone or online) for finalists:  May 24-30, 2023

 

Decision announcement:  June 9, 2023

 

Virtual group sessions for all entrants: June 20 and 21, 2023

 

Winners' mentoring sessions:  between June 15-Sept. 15, 2023

 

Workshop rehearsal: between June 15, 2023- June 15, 2024 (final version of piece to be completed one month following workshop rehearsal)

 

Performance: within one year of the workshop rehearsal 

 
SUBMISSION INSTRUCTIONS AND DEADLINE 
To submit, email the following: 
PDF of your piece (hand-written acceptable), without your name anywhere on the score. Name the file as: Title.pdf".

 

Written permission from text copyright holder, if not public domain.  Please indicate year the text was written for all texts.

 

Pronunciation guide and/or diction recording if you believe it is useful (e.g. for languages less often seen in standard North American repertoire)

 

Audio file of live performance, if available. MIDI file is acceptable. 

 

PDF of brief artist statement (without your name) describing why are you interested in this opportunity. Maximum word count 300.

If submitting two pieces, please include your artist statement with each application.

 
Include your complete contact information in the body of the email; no name or contact information on the attachments, please.

 
Submit via email to info@chicagoacappella.org no later than April 1, 2023.  
Incomplete applications will not be accepted. Applicants are encouraged to check out the participating choirs to understand the types of works typically performed.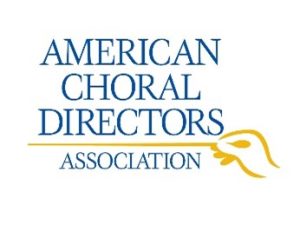 The American Choral Director Association is a sponsor of HerVoice.  HerVoice is partially supported by a grant from The  Cliff Dwellers Arts Foundation.
BIOGRAPHIES
Performing with an ensemble of 10 singers and no conductor, Chicago a cappella has been hailed as "the area's best unaccompanied group" (Chicago Magazine) and "the city's liveliest, most versatile vocal ensemble" (Chicago Tribune). Founded in 1993, the group spans a repertoire from Gregorian chant to the Beatles and beyond. With more than 500 performances to its credit, Chicago a cappella produces an annual concert series in the Chicago area, and it has appeared in 13 American states and in Mexico. The ensemble has been heard frequently on radio nationally and has a catalog of nine CD recordings on the Cedille, Centaur, and Gothic labels. They have been acclaimed for their "clarity, well-balanced tone, and deep emotional involvement" (Washington Post) and "breathtaking ensemble and control" (American Organist).
Dr. John William Trotter became Chicago a cappella's second Artistic Director in 2020, having previously served as the ensemble's Principal Music Director and Guest Music Director starting in 2014.  He was Associate Conductor for the Vancouver Chamber Choir and has conducted more than a dozen professional choirs and orchestras on three continents. During the 2019-20 season, Trotter served as a Visiting Fellow at the University of Cambridge (UK).
Founded in 2013, the Vancouver Youth Choir is widely regarded as one of the finest youth choirs in Canada. They have gained international notoriety for their adventurous programming, their commitment to performing and promoting music from underrepresented communities, and their outside-the-box approach to shows, where they employ unique venues, multimedia, movement and staging.  The choir's flagship ensemble includes advanced singers ages 15-24, and an additional six ensembles include younger children, with over 260 members in all.  Founder and artistic director Carrie Tennant is acclaimed for her work developing leadership and artistry with young singers. Carrie's choirs have been featured at Chorus America, Podium (Choral Canada), and National ACDA conferences, and have twice been awarded first place in the National Competition for Canadian Amateur Choirs.  She is an Affiliate Conductor with the Vancouver Chamber Choir, and a frequent clinician, adjudicator and guest conductor across North America.
The Santa Fe Desert Chorale is recognized as one of the finest American chamber choirs.  The composition of the Chorale is truly national in scope, and the ensemble performs music spanning seven centuries, from early polyphony to contemporary works, including a new commission each year. For over 40 years, the Desert Chorale Summer Festival has become a centerpiece of the cultural life of Santa Fe and among the nation's most significant choral events. Artistic Director Joshua Habermann has broadened the Chorale's repertoire to include not only a cappella literature but also choral-orchestral masterworks and unique concert experiences that combine music, images, poetry and the spoken word. He has led honor choirs and choral festivals in North and Latin America, Europe and Asia. He formerly served as director of the Dallas Symphony Chorus, Assistant Conductor of the San Francisco Symphony Chorus, and Director of Choral Studies at the University of Miami Frost School of Music.
Stacy Garrop is an award-winning composer with over five dozen choral works to her credit.  Her catalog also includes numerous works for orchestra, opera, oratorio, wind ensemble, art song, chamber ensembles, and solo instruments. She served as the first Emerging Opera Composer of Chicago Opera Theater's Vanguard Program (2018-2020) and held a 3-year composer-in-residence position with the Champaign-Urbana Symphony Orchestra.  Garrop is a Cedille Records artist with pieces currently on ten CDs; her works are also commercially available on ten additional labels.  She has received an Arts and Letters Award in Music from the American Academy of Arts and Letters, the Barlow Prize, and prizes from competitions sponsored by the Detroit Symphony Orchestra, Civic Orchestra of Chicago, Omaha Symphony, Boston Choral Ensemble, and Pittsburgh New Music Ensemble.  Recent commissions include works for Grant Park Music Festival Orchestra, Chicago's Music of the Baroque, and the St. Louis Symphony Orchestra. Other notable commissions include works for the Kronos Quartet, Chanticleer, and the San Francisco Choral Society. She has upcoming commissions with The Crossing and the Soli Deo Gloria Music Foundation among others. She taught composition and orchestration at Roosevelt University (2000-2016) before leaving to launch her freelance career. She earned degrees in music composition at the University of Michigan-Ann Arbor (B.M.), University of Chicago (M.A.), and Indiana University-Bloomington (D.M.).
Dr. Zanaida Stewart Robles is a fierce advocate for diversity and inclusion in music education and performance. Born, raised, and educated in Southern California, she is in demand as a vocalist, conductor, clinician and adjudicator for competitions, festivals, and conferences related to choral and solo vocal music. She serves on the national board of the National Association of Negro Musicians and is chair of the board of directors of Tonality, a non-profit organization that promotes peace, unity, and social justice through choral music performance in Los Angeles. She holds degrees from the USC Thornton School of Music (D.M.A.), CSU Northridge (M.M.), and CSU Long Beach (B.M.).  As a performing arts instructor, Dr. Robles conducts numerous choral ensembles at Harvard-Westlake Upper School in Studio City, CA. She served for five years as music director for "Project Messiah" with Street Symphony, an organization that engages communities directly affected by homelessness and incarceration through performances, workshops and teaching artistry.  Her compositions have been performed by the L.A. Master Chorale and Tonality and recent commissions include the California Choral Directors Association All-State Honor Choir.
********************
Chicago a cappella is partially supported by The MacArthur Funds for Culture, Equity, and the Arts at the Richard H. Driehaus Foundation; the Gaylord & Dorothy Donnelley Foundation; the Paul M. Angell Family Foundation; Illinois Arts Council Agency; a CityArts Grant from the City of Chicago Department of Cultural Affairs and Special Events; and the Oak Park Area Arts Council, in partnership with the Village of Oak Park, Illinois Arts Council Agency, National Endowment for the Arts, and the Oak Park River Forest Community Foundation.